Where I Am
Contact:

Blogs:

Add email for notification of New Books Only: This email address will not be used for any other purpose, nor sold. For more interaction than new book notifications, please "Like" the Facebook page H.E.R.O. Superhero Novels by clicking here.
FEATURES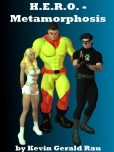 In a new supers universe, we follow the story of three people as they are changed into supers. They must deal with their new powers in their normal lives while also working to become H.E.R.O.s - members of the Homeland Extraordinary Response Organization. During this time a mutant kidnaps others in a bid to build a personal army.Read more
H.E.R.O. - Metamorphosis (H.E.R.O. Book 1)
H.E.R.O. - New Markets (H.E.R.O. Book 2)
H.E.R.O. - Rise and Fall (H.E.R.O. Book 3 - Short Novel)
H.E.R.O. - Dark Research (H.E.R.O. Book 4)
H.E.R.O. - Horde (H.E.R.O. Book 5)
H.E.R.O. - Paragon (H.E.R.O. Book 6) - released 3/12/2012!
H.E.R.O. - Dossier (Illustrated Guidebook) - expected roughly April/May 2012.