News!
H.E.R.O. - Lashback is out as of 3/20/2015! Link on the Books page.
Where I Am
Contact: Email me

Blog:

Add email for notification of New Books Only: This email address will not be used for any other purpose, nor sold. For more interaction than new book notifications, please "Like" the Facebook page H.E.R.O. Superhero Novels by clicking here.
FEATURES
Welcome to the "official" website of Kevin Gerald Rau, author of superhero (e.g. Science Fiction) novels! Feel free to peruse these pages. See what I've published in the Books section. Find out more about me in my Biography. Send me a question to add to the FAQ section. Whatever you want to know about me, you can find here first hand. In the H.E.R.O. section are descriptions of some of the characters in the H.E.R.O. world, as well as 3D images rendered of most of them. Thanks for visiting!
Do you like comic books, but don't get enough dialog? Are the characters too wooden or lack enough interaction with other characters to really pique your interest? I've created the H.E.R.O. series to fill this niche. Each novel focuses on several superheroes as they fight crimes, save people, and otherwise live their lives. They deal with personal decisions as well as super-fights. Villains rise up and attempt to perform crimes based on a personality and a reason, not just for the heck of it. (Although I'll admit that some villains appear for a scene or two, and you won't see their backstory at that time.)
This is a new superhero universe, set purely in novel form. You won't find the common supers such as Superman, Batman, X-Men, Green Lantern or others owned by Marvel or DC Comics here. All are unique to my own universe, and it is constantly expanding. While the novels don't have pictures in them, I do place quite a few images here on the website to help visualize the heroes (as well as a few villains).
Each book progresses the timeline of the universe, although the characters focused on may differ slightly with each novel, depending on the story.
So I welcome you, dear reader, to the H.E.R.O. universe of superheroes in novels.
I'd love to have you jump to my Facebook page and "Like" it, even if you aren't interested in the books. Here's the link: HERO Facebook Page
I've enrolled all of my novels below into Amazon's Prime system to enable them as options for people to check out for free. (Much like a once-a-month library rental system.)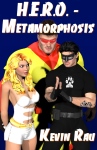 H.E.R.O. - Metamorphosis
The first novel in the H.E.R.O. series is available in e-book and paperback formats:
H.E.R.O. - Metamorphosis is now FREE on these online stores:
Amazon (Kindle) - FREE Smashwords - FREE
iTunes - FREE
DriveThruFiction - FREE
Barnes & Noble - FREE

Paperback copies are available on Createspace for $9.99.
---
The entire series is visible on the
BOOKS
page at the top.
---
The latest novel in the series:
H.E.R.O. - Lashback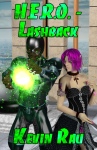 Nightmonger snaps under the pressure placed by the heroes over the previous week, as they dismantled several of his drug operations, chop shops, the supervillain lair at the Portia Hotel, and the destruction of his brothel at the hands of Lady Rapture's people. He decides to send a message to the heroes of the city to back off ... by killing them. Numerous major battles occur between the heroes and villains as his new supervillain, Nuker, gains in power.
The new band of human wanna-be heroes, Brighthorn and company, investigates the "superhero lair" mentioned by Diva and Sharae at Blacklight. It starts a chain of events where the men arm themselves against the mutants and continue their investigation into the death of the woman in the Anarchist zone.
H.E.R.O. - Lashback is the 22nd book in the most extensive superhero novel series of the last decade. It is an action- packed, full-length written novel of over 104,000 words.
Buy (or download free preview) e-book for $4.99 US on Amazon (Kindle), Smashwords, Barnes & Noble (Nook).
---
---