Where I Am
FEATURES
This page features author interviews - if you are an author and would like to submit a Q&A, check the Interviews button on this page.
| | |
| --- | --- |
| About Kevin Rau | |
I'm the author of the H.E.R.O. series of novels in the SciFi/Superhero genre. I also do character art (as seen on the rest of the page here).
I've launched the Author Interview pages to promote my fellow authors, and hopefully create some cross-links back to their websites or social networks within the interview.
---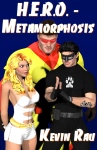 H.E.R.O. - Metamorphosis is now FREE on these online stores:
Amazon (Kindle) Smashwords
iTunes
DriveThruFiction
Barnes & Noble

I welcome new interviews - solicited by me, or out of the blue by you! If you're an author, feel free to grab the questions, fill them out and email them to me!


Tenya Sharp Ingalls (faith-based adventure romance, 3/28/2012)
Paul Mundane (contemporary sci-fi/superhero!, 3/28/2012)
Christine Nolfi (contemporary fiction, 3/29/2012)
Emily Black (writer/photographer/singer, 3/29/2012)
Cliff Ball (christian fiction writer, 3/30/2012)
Diana Wilder (fiction writer, 3/30/2012)
David Berger (sci-fi/superhero!, 3/30/2012)
Brian Beam (fantasy, 4/1/2012)
J.S. Dunn (historical fiction, 4/2/2012)
Jeff Whelan (sci-fi, 4/2/2012).
Courtney Privett (epic fantasy, 4/2/2012)
Danielle Kazemi (fantasy, 4/4/2012)
Jeff Shanley (epic fantasy, 4/6/2012)
Shane Porteous (dark fantasy, 4/8/2012)
Ira Nayman (comedy, 4/8/2012)
Shaun Allan (paranormal, 4/10/2012)
Laxmi Hariharan (epic fantasy/sci-fi, 4/12/2012)
Rosemary Lynch (fantasy, 4/16/2012)
Brian Spaeth (short stories/poems, 4/17/2012)
Scott Whitmore (steampunk, 4/17/2012).
David M. Brown (fantasy, 4/26/2012)
Darrell Pitt (sci-fi/superhero!, 4/29/2012)
Jan Romes (romance w/humor, 4/30/2012)
Simon Fox (hard-core sci-fi, 5/1/2012)
Kat Flannery (historical romance, 5/2/2012)
Warren Bennett (sci-fi/fantasy, 5/3/2012)
Vanessa Wester (paranormal romance/children's, 5/3/2012)
George Shirer (sci-fi, 5/4/2012)
Douglas Dorow (thriller, 5/4/2012)
Jane Isaac (psychological thriller, 5/4/2012).
Russell Blake (action/adventure thriller, 5/4/2012)
Nicole Hill (historical romance & more, 5/7/2012)
David Leadbeater (action/thriller/horror, 5/7/2012)
Lee Rawn (action/fantasy, 5/7/2012)
Morgan Nyberg (thriller/literary fiction/medical, 5/8/2012)
D.X. Luc (erotica/fantasy/paranormal, 5/10/2012)
C.R. Hiatt (Y.A. Action & Adventure, 5/11/2012)
Joshua K. Johnson (gunpowder fantasy, 5/14/2012)
Jill Pritchett (mystery, 5/17/2012)
Aron Joice (YA fantasy, 5/18/2012).
Elizabeth Baxter (fantasy, 5/18/2012)
Cassandra Davis (sci-fi, 5/21/2012)
Tami Parrington (fantasy-horror/erotica, 5/21/2012)
Sundae Rye (sci-fi/webcomic, 5/21/2012)
Janine McCaw (historical fiction, 5/22/2012)
Alexandria Infanté (paranormal romance, 5/22/2012)
Mary Ann Bernal (historical fiction, 5/23/2012)
Derek Blass (legal thriller, 5/24/2012)
Shawn Hopkins (many genres, 5/25/2012)
John Walz (contemporary fantasy/sci-fi, 5/28/2012).
Michael Lamendola (thriller, 5/29/2012)
Ian Thomas Healy (superhero/YA/horror, 5/30/2012)
Rayne Hall (horror/author instruction, 5/31/2012)
Jess C. Scott (cyberpunk/erotica, 6/1/2012)
Michelle Louring (high fantasy, 6/1/2012)
Olene Quinn (historical fiction, 6/4/2012)
Debra Martin (fantasy, 6/7/2012)
James Baxter (action/horror, 6/11/2012)
Emma Kathryn (horror/fantasy/gothic, 6/12/2012)
John Dalglish (police procedural, 6/13/2012).
Victoria Grefer (fantasy, 6/14/2012)
Tom Drinkard (action/adventure, 6/15/2012)
M.G. Wells (fantasy, 6/16/2012)
Maria Savva (varied, 6/17/2012)
Davee Nielson (romance/thriller/paranormal/more, 6/18/2012)
Donovan Sotam (humor/fantasy humor, 6/19/2012)
Jan Tilley (romance/sci-fi/other, 6/21/2012)
Robert Butt (graphic novel/horror/screenplays, 6/22/2012)
Lina Tyuliep (self-help booklets, 6/25/2012)
Mark Chisnell (thriller, 6/26/2012).
Monique Rockliffe (fantasy/sci-fi, 6/28/2012)
Catherine Kirby (fantasy/family, 6/29/2012)
Henry Herz (children's, 6/30/2012)
Jeffrey Taylor (comics/superhero blogging, 7/5/2012)
Carole Gill (gothic romance, 7/6/2012)
M.G. Edwards (childrens/fantasy/thriller, 7/7/2012)
Kimberly (poetry/action-adventure, 7/9/2012)
Jeff Shanley (pt. 2) (epic fantasy, 7/12/2012)
Krystal O'Brien (fantasy, 7/13/2012)
Catherine Russell (vampires!, 7/23/2012).
E.L. Lindley (contemporary women, 7/24/2012)
Gary Henry (superhero/historical fiction, 7/27/2012)
Dakota Douglas (children's fiction, 7/30/2012)
Rachael Thorne (paranormal/supernatural, 7/31/2012)
Rod Lindsey (crime fiction, 8/1/2012)
Kay Dee Royal (paranormal/urban fantasy/romance, 8/2/2012)
Aaron Saylor (literary/gritty, 8/3/2012)
Mandy Eve-Barnett (fantasy, 8/6/2012)
Carol Cadoo (romance, 8/7/2012)
Trevor Smith (horror/comedy, 8/9/2012).
Eric Diehl (sci-fi/fantasy, 8/10/2012)
Gerald Rice (horror, 8/13/2012)
C.E. Martin (fantasy, 8/14/2012)
Valerie Laws (thriller/humor/poetry, 8/17/2012)
Matt Posner (YA fiction, 8/20/2012)
A.D. Starrling (fantasy, 8/21/2012)
Christopher Kokoski (paranormal thriller, 8/23/2012)
Chris McKenna (fantasy/sci-fi, 8/24/2012)
Frank Etier (fiction, 8/27/2012).
Katy Jones (fantasy, 8/28/2012)
Anne-Marie Klein (contemporary fiction, 8/29/2012)
Minh Anh Do (sci-fi/fantasy realism, 8/30/2012)
Deborah Mantle (mystery/contemporary fiction, 8/31/2012)
Cinta García de la Rosa (fiction, 9/1/2012)
Susan Furlong-Bolliger (mystery, 9/4/2012)
Monica La Porta (dystopian sci-fi, 9/5/2012)
K. Robert Campbell (suspense/literary fiction, 9/6/2012)
Amy Lignor (action/adventure, 9/7/2012)
Jade Kerrion (sci-fi/dystopian/fantasy, 9/8/2012).
Elise Stokes (YA/action & adventure/superhero, 9/17/2012)
Paul Plunkett (YA/action & adventure/mystery, 9/18/2012)
Greatest Poet Alive (G.P.A.) (poetry, 9/20/2012)
Wodke Hawkinson (thriller/shorts/multi-genre, 9/21/2012)
Vickie McKeehan (romance/suspense, 9/21/2012)
William J. Meyer (fiction, 10/4/2012)
Lee Chambers (fiction, 10/18/2012)
M.R. Cornelius (fiction, 11/13/2012)
Richard Abbott (historical fiction, 11/27/2012)
Nicky Peacock (fiction, 12/6/2012)
Cary Barner-Nelson (romantic suspense, 12/17/2012)
Elyse Salpeter (contemporary fantasy/fiction, 12/19/2012)
Oliver Crown (superhero/sci-fi, 1/3/2013)
Martha Emms (fiction/romance, 1/4/2013)
Jayme Beddingfield (fantasy, 1/9/2013)
Rebeccah Giltrow (fiction, 1/10/2013)
Julie Elizabeth Powell (fiction/fantasy, 3/1/2013)
Interviews I've done for other sites:
Reviews on H.E.R.O. - Metamorphosis
comments powered by

Disqus